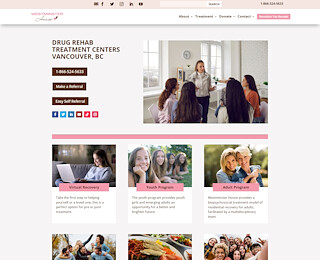 Westminster House provides exceptional alcohol addiction treatment in Vancouver and can help you or a loved one overcome alcohol addiction and begin the journey to recovery. Westminster House is a long term residential recovery center for women healing from addiction. Westminster House promotes and facilitates a desire for recovery, helping women help themselves overcome addiction. The treatment program provides women with the necessary tools trusting their own ability to reclaim a drug-free existence.
Westminster House understands that recovery is a lifelong process. The journey to long-term abstinence begins with a courageous first step- the step toward receiving treatment and reclaiming a drug-free existence.
The Westminster House philosophy is based on treating addiction as a chronic disease; promoting long term abstinence through holistic recovery strategies; and advocating client participation in 12-step programs. By engaging clients in a multi-layered bio-psycho-social-spiritual model, women who attend the program have an opportunity to look deeply at the issues surrounding addiction and the addictive process. These treatment practices are reinforced in all programs offered at Westminster House.
The ultimate goal for each and every client at Westminster House includes:
- Long-term abstinence from involvement with substance misuse
- Improved psychological and physiological health
- Improved family and social functioning
Westminster House's alcohol treatment program in Vancouver is a primary treatment program. During a client's stay they are supported to explore the core issues that led to their addiction. The program presents the framework and an action plan that leads to sustainable recovery. This includes group therapy, one to one counseling, addiction educational series, introspective writing (12 Steps), and health and wellness. The clients live in a peer to peer environment and are in groups of two or more women at all times to ensure complete safety and accountability to the program.
Westminster House's On-Going Recovery Program is designed to bridge the gap between primary care treatment and reintegration back into society. Its components include:
- Sober Living Residence
- 12 Step Recovery Program
- Peer To Peer Support
- 8 Week Program Inclusive of 3 Groups Per Week
- Education and Training Programs
- Volunteering
The On-Going Recovery Program provides relapse prevention and a continued supportive environment that includes structured programming, and accountability to one's peers and support group. This will assist to make positive changes to environment and develop marketable skills to gain meaningful employment.
When you're ready to take that first step, call Westminster House at 866-524-5633, 24 hours a day, 7 days a week, to speak with one of Westminster House's professionals who can answer all of your questions and direct you to admissions. You can also visit their website at westminsterhouse.ca, where you can learn more in-depth details about their programs and how they can help you or a loved one overcome addiction with their alcohol treatment program in Vancouver.
It all starts with one courageous step- the step that will begin the journey to recovery. Make the call today. You'll be glad you did.
Alcohol Treatment Vancouver
We welcome your comments!