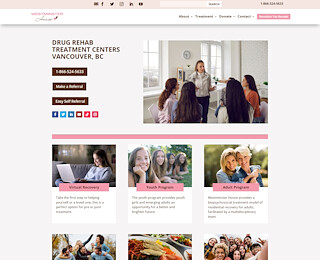 If you're searching for the best
drug and alcohol treatment
program in Vancouver, look to the professional services that Westminster House provides. Westminster House is a long term residential recovery center for women healing from addiction. Westminster House promotes and facilitates a desire for recovery, helping women help themselves overcome addiction. The treatment program provides women with the necessary tools trusting their own ability to reclaim an alcohol and drug-free existence.
Westminster House uses the acorn as their symbol of hope, since it must hit the ground hard in order to break open, grow and reveal the strong oak within. Their motto is 'Women Do Recover'.
Westminster House's mission statement is to provide residential addiction treatment for women through integrated social recovery, education and wellness.
The Westminster House On-Going Recovery Program is a open ended extension of the Westminster House residential Primary Care Program. Through On-Going Recovery, Westminster House will provide our program graduates with the opportunity to attend post-secondary education. Their goal is to fund education opportunities that will include certifications in Word, Excel, Outlook, PowerPoint and Access, as well as Post-Secondary and General Education and Basic Counseling. This education is necessary to continue the changes needed to find a new way of life, obtain gainful employment and become responsible productive family member and members of society.
Physical exercise is unequivocally one of the most important components of charting one's pathway to optimal health. Engaging in regular exercise offers tremendous benefits in the realm of relapse prevention and long term recovery. Engaging in a wellness program while undergoing drug and alcohol treatment has many benefits in regards to relapse prevention and long-term recovery.
The Westminster House philosophy is based on treating addiction as a chronic disease; promoting long term abstinence through holistic recovery strategies; and advocating client participation in 12-step programs. By engaging clients in a multi-layered bio-psycho-social-spiritual model, women who attend the program have an opportunity to look deeply at the issues surrounding addiction and the addictive process. These treatment practices are reinforced in all programs offered at Westminster House.
The idea of addiction as a brain disease is a very new one. People once saw addiction as a personality flaw and a sign of weakness. This stigma still persists in society today and is a major challenge for addicts and the people who treat them. Westminster House strives to meet the needs of treatment in all area's recovery: body, mind and spirit.
Westminster House understands that recovery is a lifelong process. The journey to long-term abstinence begins with a courageous first step- the step toward receiving treatment and reclaiming an alcohol and drug-free existence.
Take that first step now. Call Westminster House at 866-524-5633, 24 hours a day, 7 days a week, to speak with a professional who can answer all of your questions and help you with the admissions process. You can also visit their website at westminsterhouse.ca, where you can learn more about their drug and alcohol treatment programs and how they can help you or a loved one overcome addiction and lead a better quality of life.
We welcome your comments!