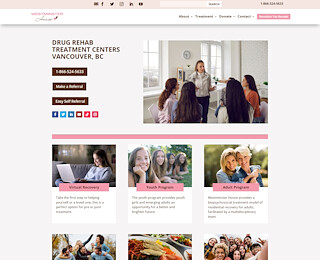 Westminster House is considered by many to be the best womens drug rehab center in Vancouver. As a long-term residential recovery center for women healing from addiction, Westminster House promotes and facilitates a desire for recovery, helping women help themselves overcome addiction. The treatment program provides women with the necessary tools trusting their own ability to reclaim a drug-free existence. Westminster House also provides exceptional family support while your loved one is undergoing treatment. 
The acorn is Westminster House's symbol of hope, since it must hit the ground hard in order to break open, grow and reveal the strong oak within. Westminster House's motto is 'Women Do Recover'.
Westminster House is the foremost womens drug rehab center in Vancouver, providing exceptional treatment programs that include:
- Primary Care. During a client's stay they are supported to explore the core issues that led to their addiction. The program presents the framework and an action plan that leads to sustainable recovery. This includes group therapy, one to one counseling, addiction educational series, introspective writing (12 Steps), and health and wellness. The clients live in a peer to peer environment and are in groups of two or more women at all times to ensure complete safety and accountability to the program.
- On-Going Recovery. The On-Going Recovery Program provides relapse prevention and a continued supportive environment that includes structured programming, and accountability to one's peers and support group. This will assist to make positive changes to environment and develop marketable skills to gain meaningful employment.
- Trauma Relief. Westminster House enhanced program goals are designed to relieve clients from Withdrawal, Pain, Trauma and Night Terrors. The program utilizes movement of energy, massage and specialized pain management techniques.
- Family Support. Family Support is a resource established to assist family members and friends affected by addiction. Providing access to knowledgeable professionals  offering assistance and support while their loved ones are in treatment at Westminster House. Family involvement and support is critical to the recovery process – relationships begin to mend from confusion, hurt, and misunderstandings. Family members are guided to work on their own issues, develop self-care techniques, and learn how to support their loved one. Continuing care recommendations are given to family members to support their ongoing recovery.
The Westminster House On-Going Recovery Program is a open ended extension of the Westminster House residential Primary Care Program, and is considered to be one of the best womens drug rehab center in Vancouver. On-Going recovery bridges the gap in services and allows Westminster House to provide a full continuum of care to our clients.
Through On-Going Recovery, Westminster House will provide our program graduates with the opportunity to attend post-secondary education. Our goal is to fund education opportunity that will include certifications in Word, Excel, Outlook, PowerPoint and Access and well as Post-Secondary Education and General Education (GED) and Basic Counseling. This education is necessary to continue the changes needed to find a new way of life, obtain gainful employment and become responsible productive family member and members of society.
On-Going recovery bridges the gap in services and allows Westminster House to provide a full continuum of care to our clients.
Why not call Westminster House today at 866-524-5633. They're available 24 hours a day, 7 days a week to answer your questions about their womens drug rehab center in Vancouver. You'll be glad you made the call.
Womens Drug Rehab Center Vancouver
We welcome your comments!