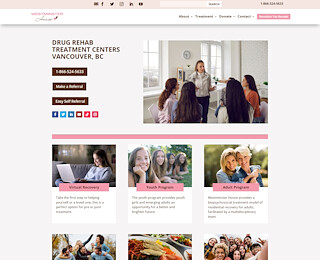 When you're ready to take that first step that leads to lifelong recovery, consider the
womens drug treatment
center that is known for helping women heal from addition. Westminster House is a long term residential recovery center for women healing from addiction. Westminster House promotes and facilitates a desire for recovery, helping women help themselves overcome addiction. The treatment program provides women with the necessary tools trusting their own ability to reclaim a drug-free existence.
With the acorn as Westminster House's symbol of hope, they understand that with addiction, patients must hit the ground hard in order to break open, grow and reveal the strong oak within. Their mission statement is to provide residential addiction treatment for women through integrated social recovery, education and wellness.
Westminster House provides exceptional treatment programs that include:
- Primary Care. During a client's stay they are supported to explore the core issues that led to their addiction. The program presents the framework and an action plan that leads to sustainable recovery. This includes group therapy, one to one counseling, addiction educational series, introspective writing (12 Steps), and health and wellness. The clients live in a peer to peer environment and are in groups of two or more women at all times to ensure complete safety and accountability to the program.
- On-Going Recovery that provides relapse prevention and a continued supportive environment that includes structured programming, and accountability to one's peers and support group. This will assist to make positive changes to environment and develop marketable skills to gain meaningful employment.
- Trauma Relief, through Westminster House's enhanced programs with goals designed to relieve clients from withdrawal, pain, trauma and night terrors. The program utilizes movement of energy, massage and specialized pain management techniques. All treatments are administered by Westminster House Registered Therapists.
- Family Support, which is a resource established to assist family members and friends affected by addiction. Family Support provides access to knowledgeable professionals, offering assistance and support while their loved ones are in treatment at Westminster House. Family involvement and support is critical to the recovery process – relationships begin to mend from confusion, hurt, and misunderstandings. Family members are guided to work on their own issues, develop self-care techniques, and learn how to support their loved one. 
Westminster House understands that recovery is a lifelong process. Within the womens drug treatment program, the journey to long-term abstinence begins with a courageous first step- the step toward receiving treatment and reclaiming a drug-free existence.
The Westminster House philosophy is based on treating addiction as a chronic disease; promoting long term abstinence through holistic recovery strategies; and advocating client participation in 12-step programs. By engaging clients in a multi-layered bio-psycho-social-spiritual model, women who attend the program have an opportunity to look deeply at the issues surrounding addiction and the addictive process. These treatment practices are reinforced in all programs offered at Westminster House.
The ultimate goal for each and every client in Westminster House's womens drug treatment programs include:
- long-term abstinence from involvement with substance misuse
- Improved psychological and physiological health
- Improved family and social functioning
Call Westminster House at 866-524-5633, 24 hours a day, 7 days a week to take that first step that will lead to lifelong recovery. They're waiting for your call, and they're there to help.
We welcome your comments!